How Sri Lanka Can Rise to the UK's Business Continuity Needs

By Ruwindhu Peiris, Managing Director of Stax Inc.
The outbreak of COVID-19 has taken an unprecedented toll on countries and their economies globally and the effect of the virus on UK businesses cannot be ignored. This is especially since the services sector – comprising almost 80 percent of the country's economy – contracted sharply between February and March.
With the end of the pandemic still uncertain, companies need to take charge and create their own certainties. Those that lead the change and help define a "new normal" rather than wait to adapt will be the winners.
Through a three-phased approach, businesses in the UK can plan to not only survive but also thrive on the bounce back post-crisis.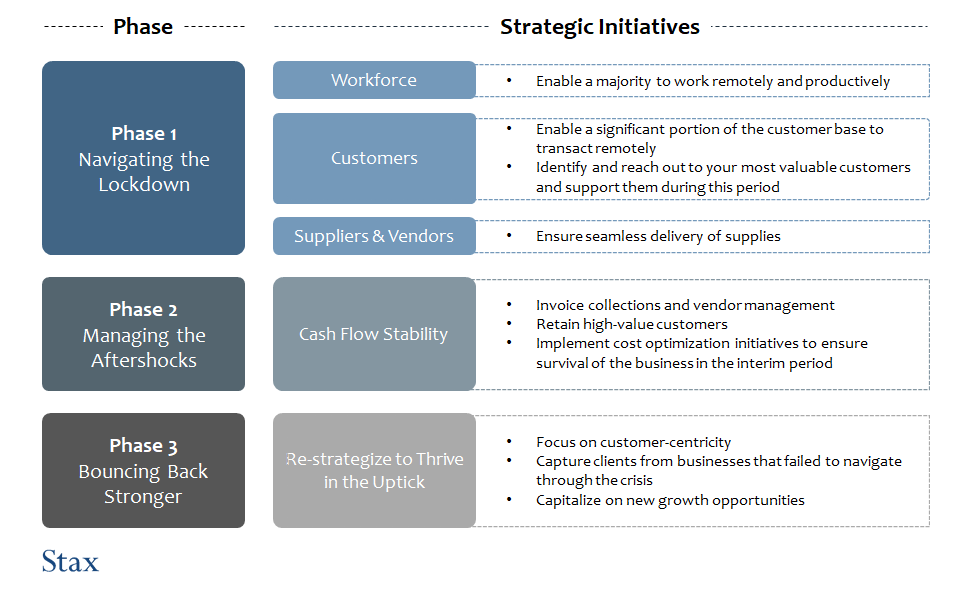 Sri Lanka, the Island of Ingenuity
On these fronts, Sri Lanka stands ready to support the UK and its businesses.
Sri Lanka has a robust and ever-growing workforce that is highly literate as well as an Information and Communications Technology and Business Process Management (ICT/BPM) sector that has shown resilience and adaptability in times of crises. Backed by a ready government, our Island of Ingenuity has the infrastructure necessary to help businesses and public services weather the current crisis to emerge resilient and stronger.
The UK's lofty digital economy ambitions has precipitated a demand surge for roles in the digital technology sector. While employment in this sector has increased greatly over the past couple of years, the UK may not have enough skilled professionals to meet the nation's growing industrial demands. A shortage of digital skills is often cited as a prime concern by organisations. This is expected to be further challenged – at least in the short term – by the country's exit from the European Union and the ongoing COVID-19 crisis.
In times of an inward deficit, the solution often lies in looking outward. This also applies to filling ICT and BPM roles to keep industries afloat. Many UK firms are already outsourcing their operations, with nearly a third doing so as part of their business transformation strategy. Sri Lanka has been one of the UK's featured outsourcing destinations over the past decade.
Sri Lanka is ranked among the Top 50 Global Outsourcing destinations by AT Kearney and ranked among Top 20 Emerging Cities by Global Services Magazine. We also won the 'Outsourcing Destination of the Year' accolade awarded by the National Outsourcing Association UK successively in 2013 and 2014. Just last year, Sri Lanka won the coveted Outsourcing Destination of the Year 2019 award for Technology and Innovation by the Global Sourcing Association (GSA) in the UK.
To date, we have been the destination of choice for some of the world's leading multinational firms; with names such as HSBC, Pearson and the London Stock Exchange Group possessing large captive innovation centres in Colombo which are pivotal to their business continuity plans.
Chris Trill, Global Head of Consumer Services, HSBC and Ann Neidenback, CIO of London Stock Exchange both share their personal experiences of how their captive innovation centres in Sri Lanka have stood out in culture, leadership and capability at an event at the London Stock Exchange Group in 2019.
Not Just Remote but Leading a Response
Above all, however, our ICT/BPM industry is characterized by resilience and adaptability in times of crises. Experiences such as the 2004 Asian Tsunami and the 2019 Easter Sunday attacks have emboldened companies to future-proof their infrastructure to withstand similar critical periods. This has enabled companies to provide uninterrupted support to clients overseas during the current COVID-19 situation even with their own staff working remotely.
One Sri Lankan company supporting the UK in its fight against COVID-19 is Calcey, a software product engineering company whose remote teams build digital products for tech companies in the US, the UK and Europe. Amidst the current crisis, Calcey adapted quickly to ensure that they can maintain their commitments to their overseas clients. Beyond that, Calcey has committed itself to the good fight by building modules for London-based Fresh Fitness Foods to provide meals for frontline NHS workers.
A global strategy consulting firm with its center of excellence in Sri Lanka, Stax Inc, is building and rapidly updating a large structured repository of economic, behavioral and COVID indicators. Presented within a sandbox environment and paired with modelling frameworks, the company's private equity and corporate clients can tap into the repository to better understand the impact of the pandemic on countries and industries. The repository can also be used to determine possible scenarios of economic rebound and for Stax's clients to plan around the uncertain future.
Together We Can
It is imperative that all of us do what we can to support each other during these times of uncertainty. Such times test the limits of human resilience and adaptability. It pushes us to leverage our innate ingenuity and the use of technologies to help organisations and countries keep their head above water.
Sri Lanka, for its part, stands ready to help the UK in this trying time. We wish that everyone around the world stays in good health.
We will rise even stronger after overcoming COVID-19.