Homegrown fintech solution
Homegrown fintech solution paves the way for world-class Digital Banking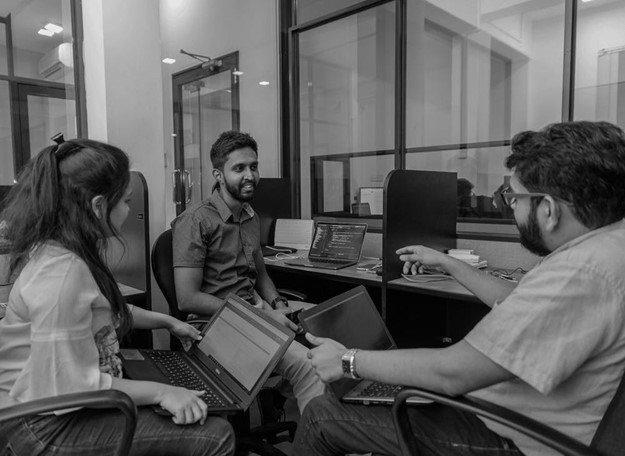 Founded by Suren Kohombange in 2007, Fortunaglobal is a technology solutions company that specializes in fintech and digital creative solutions. With over a decade of experience, we are a bunch of strategists, developers, fintech geeks, creatives, and designers looking to create the next ground-breaking technology. Our experience has led us to take on some of the biggest technological challenges and provide premier digital solutions to our clients with an experience par excellence. We serve some of Sri Lanka's leading banks, financial institutions, and companies.
Our approach to technology is two-fold; firstly, our expertise lies in our homegrown fintech solutions. Our second forte relies on digital creative strategies. Through our Affluence Suite, we offer a 360 digital banking solution that ranges from mobile banking to security measures for financial transactions.
Through our creative prowess, we provide services ranging from bespoke software development solutions (web-based, mobile-based, Artificial Intelligence) and IT outsourcing to digital marketing services.
Our Values
In our 13 years of experience, we found the recipe to success relied heavily on three key ingredients;
Innovation – We have created game-changing innovations in the financial sector and have become a leading actor in the transformation of the banking digital economy.
Agility – We provide our customers with the assurance of an experienced enterprise with the flexibility and disruption of a startup. With a flat hierarchic structure and direct access to the CXO levels, our staff has the freedom to make key decisions fast. Our team is a melting pot of veterans in the industry and young and vibrant millennials working towards a common goal.
Integrity – Security is at the heart of what we build. Loyalty and Integrity is a core institutional value for Fortunaglobal
A global solution with a localized touch
Constantly evolving financial technology has put pressure on banks and financial institutions to stay ahead in the technology era. The easier option seems to be for the importation of technology to ensure a quality product. Some have taken this path only to discover in hindsight the pitfalls and challenges. Even when setting aside the outflow of Sri Lankan remittances to foreign parties the biggest challenge seems to be the lack of local insight into the non-local technology providers.
Enter Fortunaglobal, where we have partnered with banks and financial institutions in Sri Lanka to carve out truly local fintech solutions and customized products tailored specifically for our clients' needs. Over the years, the Affluence Digital Banking solution has assisted five non-banking financial institutions, one specialized bank, and four commercial banks in moving into digital.
"When we started 13 years ago, it was bold and almost audacious to think that a local technology company could meet all the needs of a financial institution. However, as we gained experience we realised our own competency was centred around in understanding the digital penetration needs of customers, and a solution to be partnered in a  relationship fostered through innovation, quick implementation of ideas and a solid customer support philosophy.
In 2020/21 we are venturing into the region to offer our own omnichannel solutions to empower the digital journey of regional banking customers," Suren Kohombange, CEO/founder of Fortunaglobal said.
Doing Business in Sri Lanka Information Memorandum
Download our comprehensive information memorandum for details on Sri Lanka's advantages and opportunities for investors and prospective clients of Sri Lankan ICT/BPM companies.
The hands-on approach during a crisis
From a decades-old war to the Easter attacks and the recent pandemic outbreak, Sri Lanka has faced it all. We have supported our clients who formed the backbone of essential services during all these crises to ensure business continuity. From onsite teams to 24-hour support, we have understood that communication and a tight feedback loop are what it takes to mitigate a crisis. Speaking local languages and understanding the local mindset has helped Fortunaglobal be not only the technology provider but also a partner and an adviser during challenging times. During the COVID-19 lockdown and restriction on movement, Affluence essentially became the digital bank branch with almost every function of a branch being available at the fingertips. In this period, we had introduced the digital onboarding system to a premier bank and had witnessed over 1500 signups over 5 days. Another milestone was connecting a non-banking financial institution to the LankaPay network during the crisis to help them go digital.
Banking the unbanked in Sri Lanka
Years of local insight has given us the aptitude to create products that appeal to the masses. These products in turn help bring in those in the periphery to the empowered centre and help digitally onboard the unbanked. For example, our experience with a local bank that mainly deals with farmers gave us the opportunity to introduce products that made farmers not only save but invest, creating the perfect financial ecosystem for them. Financial inclusion is a key pillar of our brand ethos and this case study is one of the many examples. Through the integration of Facebook banking, chat apps, and mobile apps all serve as a stepping stone to introduce banking to the unbanked. Our clients have witnessed a 15% to 20% increase in digital transactions during the Q4 of 2019.
This content has been produced within the framework of the EU-Sri Lanka Trade Related Assurance Project, funded by the European Union and implemented by ITC and UNIDO in partnership with the Government of Sri Lanka.