Building A Customizable IDE for Serverless Development
FINTECH SANDPIT SLAPPFORGE – THE EMERGING TECHNOLOGY STARTUP FROM THE ISLAND OF INGENUITY, EMPOWERING THE SERVERLESS REQUIREMENT OF MANY.
As a recent addition to the world of financial technology facilitators, Fintech Sandpit Limited is a UK based startup, which started its operations very recently in July 2019. With the promise to deliver a faster, complete suite of innovation services to the financial industry, the company assists clients from ideation to execution by providing services such as APIs to test and build applications, and helping them to Iterate to the ideal solution which is also money- and time-saving.
THE DECISION TO GO SERVERLESS!
The story begins with Fintech Sandpit wanting an integrated development environment (IDE) customized for financial partners that differentiated itself from the rest by adopting server-less. The company announced to provide the option to deploy cloud resources that connects directly to AWS/GCP clouds for application development, which was enhanced by other services; such as production-ready solutions, synthetic data, as well as microservice architecture for strong B2B fintech and APIs.
And to secure the above competitive advantage, all that Fintech Sandpit Limited required was to integrate an online IDE into its FinTech community platform, which would facilitate its users to develop their FinTech workflows, applications, APIs and backends faster with least hassle.
SIGMA IDE COMES INTO PLAY: THE SLAPPFORGE SOLUTION
Identifying the value that Sigma IDE provides via its intuitive drag-n-drop coding interface, Fintech Sandpit Limited reached out to SLAppForge for a potential partnership. The idea was to own an IDE where users could drag-n-drop desired FinTech APIs from a predefined API collection, which would ease the process of adding the appropriate client API calls to their code – in their choice of programming language, be it NodeJS or Python.
SLAppForge provided a solution through customization done to Sigma and came up with a version of their IDE that provided a palette of draggable APIs based on a set of customizable Swagger definitions. This allowed users of the Fintech Sandpit Limited platform to develop, test, debug and deploy their
FinTech workflows right within their browser; dramatically reducing the overhead of setting up local development environments and tooling.
"The partnership isn't limited to just client APIs, but enables smooth incorporation of AWS and Google Cloud APIs into their applications, resulting in a highly versatile cloud development platform."
Asankha Perera, CEO/Founder, SLAppForge
THE STORY OF SLAPPFORGE
A startup with humble backgrounds went in search of ways to resolve the complexities associated with getting an application up and running on AWS Lambda, despite the ever so amusing server-less technology. Their mission ended up building the first completely browser-based IDE for facilitating server-less computing and application development over multiple cloud platforms.
A key difference of the Sigma approach was that the IDE would load within a user's standard web browser, and would directly integrate with a myriad of Cloud services from multiple cloud providers, allowing developers to drag-and-drop Cloud resources from a palette, to generate the necessary code – which can then be further customized if necessary.
"A huge advantage of using the Sigma IDE is that the end-user does not have to install any new software locally, which usually bloats the developer machines when using alternative approaches, such as the installation of Docker containers. "
Also, Sigma does not launch any remote VMs or containers on behalf of users either – and this saves extra cost and overheads of some of the other IDE approaches. Sigma has also revolutionized the testing and debugging capabilities, by allowing users to write, test and debug a Server-less function within seconds – eliminating local build, bundle, and remote deploy overheads, and improving developer productivity many folds.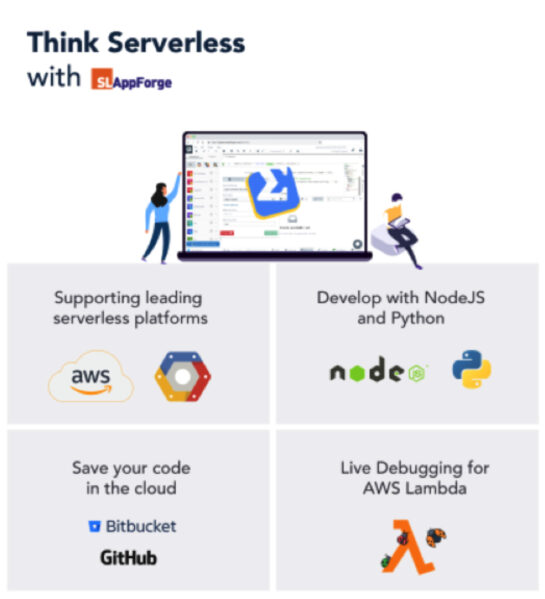 Driven by a team of young techies thriving for innovation through experimentation, backed by a team with years of enterprise experience, is the secret behind the success presenting SLAppForge as an established organization seeking more yet the best.
Doing Business in Sri Lanka Information Memorandum
Download our comprehensive information memorandum for details on Sri Lanka's advantages and opportunities for investors and prospective clients of Sri Lankan ICT/BPM companies.
This content has been produced within the framework of the EU-Sri Lanka Trade Related Assurance Project, funded by the European Union and implemented by ITC and UNIDO in partnership with the Government of Sri Lanka.